New Zealand's Oldest Rugby Football Club
Founded in 1868. Rugby began in 1870 with the first game ever played between Nelson and Nelson College at the Botanical Reserve in Nelson City.
We are extremely proud of our history and heritage and are committed to promoting the development of rugby for all people throughout the Nelson and Tasman region of New Zealand and beyond.The aim of the website is to update club activities and provide a historical digital repository for future generations of the club to access.
Covid-19 Management
The club has adopted the MOH guidelines and will be following all advice issued by the MOH / NZ Government.
Game Day
Saturday 26th June
Div 2
1:15pm, Takaka Recreation Park: Nelson vs Takaka
Junior Rugby
The U6 & U8 teams are at home (Neale Park) and the other junior teams are all away this week.
For all the fixtures see the Tasman Rugby Union site:
Videos
Check out our latest video - an interview with Tom Sharland
Tom played for NRFC for 20 years - incurring the wrath of the Nelson College Headmaster for choosing to play for the club over the school. Tom has been an active sports person all his life (rugby, basketball & running to name a few) and now, at the age of 85 is still a keen biker. Tom talks to Barbara about his rugby career and his other sporting achievements.
In celebration of the club's 150th anniversary Barbara Hodgson has been interviewing some of the club identities to capture their memories and create a living history of the club. You can watch all the interviews on our channel.
Club News
Junior Skill Holiday Sessions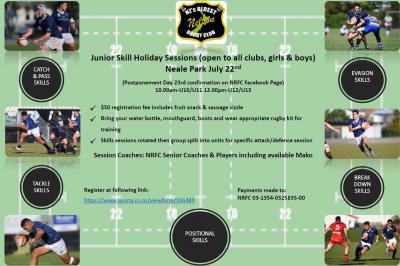 Neale Park, 22nd July (Postponement Day 23rd July, confirmation on NRFC Facebook Page)
Open to all U10-U13 players
Session times
10.00am-U10/U11
12.00pm-U12/U13
Registration & cost
Register using this link: https://www.sporty.co.nz/viewform/166489
Cost: $50 ( includes fruit snack & sausage sizzle).
Payments made to: NRFC 03-1354-0325835-00
What to bring
Please wear appropriate rugby kit for training and bring:
water bottle
mouthguard
boots
Skills
catch & pass
tackle
evasion
breakdown
positional play
Session Coaches
NRFC Senior coaches & players including available Mako
All Blacks squad named for Steinlager series
Congratulations David Havili and Ethan Blackadder.
We know how hard you have both worked to achieve this goal and it is well deserved.
David and Ethan were both outstanding this season and their selections reflect the contribution they made to the Mako and Crusader successful seasons.
Coach Ian Foster was impressed with how David stepped into that fullback role and the skill set that he brings to a game - a great ball carrier in terms of his leg drive and in the tackle he's physical in that area and certainly he's grown in his defensive accuracy and what he does there. He brings a nice all-round skill set.
Ethan Blackadder - the impressive features of Ethan's game were his consistency in his play and an ability to absorb requirements and develop them.
Recognising service
This year we recognised the contribution, loyalty, and commitment of five players that wear the jersey with pride, honouring the tradition and values of the club.
Dylan Turnbull played his 100th game for the club. Dylan joins an elite few to achieve this milestone.
Dave Egelstaff, Asher Wells, Christian Tupuola and Inoke Latu all played their 50th game for the club.